The 2021 Subaru Love Promise Community Commitment Award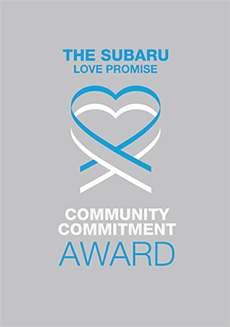 We've been nationally recognized for our dedication to our community and the Subaru Love Promise.
We're honored to receive the 2021 Subaru Love Promise Community Commitment Award. This award nationally recognizes Subaru retailers who are making the world a better place while demonstrating an outstanding commitment to supporting passions and causes in local communities. These efforts are focused in important areas such as the environment, community, health, education, and pets.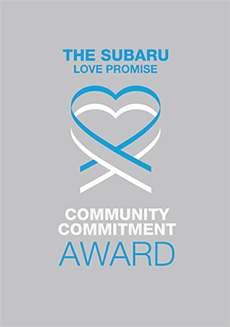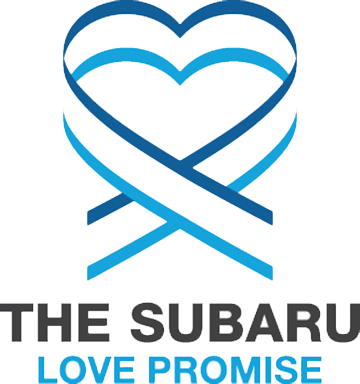 What is the Subaru Love Promise?
Subaru and our retailers believe in making the world a better place and the Subaru Love Promise is our vision of respecting all people. This is our commitment to show love and respect to our customers and to work to make a positive impact in the world.
How is Quirk Subaru of Bangor dedicated locally to the Love Promise?
Our Love Promise can be seen in various partnerships with local charities and non-profits. We're grateful for the opportunity, not only to be a part of our community, but to serve it as well.
Maine Discovery Museum, University of Maine
Love Promise Stories from Quirk Subaru of Bangor
Subaru and Quirk Subaru of Bangor believe in making a positive impact on the communities in which we live and work. We uphold that belief through our Love Promise Community Commitment. Every month, we select inspiring stories from customers and partners from around our area who strive to support our collective commitment and feature them here
Meals On Wheels - Dyan W
Early in 2020, working with Subaru New England, Quirk Subaru helped support a Large Food Donation Drive to support Good Shephard Food Bank with a statewide drive effort to keep food shortages & assistance. This effort lead to several Quirk Subaru employees suggesting LOCAL food assistance programs near and dear to our hearts here in Bangor. Each year Quirk employees donate a portion of their Christmas bonus to charitable organizations THEY select, and Quirk Auto Group matches these donations. Quirk Subaru has proudly supported Eastern Maine Agency On Aging's Meals On Wheels program for several years. In 2017, Quirk Subaru and Subaru of America generously donated a brand new Subaru Outback to support the delivery of meals to senior citizens in need throughout Eastern Maine. Quirk Subaru continues this relationship by donating food assistance to Eastern Maine Agency On Aging's Meals On Wheels program in 2020, a year in which COVID has created a food assistance need like none other. #quirkcares
---
Automotive Technology Scholarship - EMCC - Terri A
Quirk Subaru and its employees have a long history of dedication to supporting automotive technical education at Eastern Maine Community College. In addition to contributing to EMCC's Subaru U Training Program, Quirk Subaru and it's employees have again donated a 2020 scholarship to support the tuition for a student in need who aspires to become an automotive technician through EMCC's Automotive Technology program. For many years, this scholarship has provided opportunities to diverse groups of people: women, displaced adults looking for new career opportunities, or young adults just starting. Quirk Subaru is proud to have provided jobs and advancement opportunities for both current and past EMCC Automotive Technology graduates with jobs that allow them to make a decent wage and contribute to the local Bangor economy. We look forward to seeing our 2020 scholarship benefactor flourish in the field of automotive technology. #quirkcares
---
FUN-raising, Filled Foresters, & Fur-Ever Homes - Kathryn R
The Bangor Humane Society has now partnered with Quirk Subaru for 8 wonderful years. Thanks to their longtime support, we have successfully facilitated the improvement of thousands of animal lives in our region. As a direct result of their generous assistance, we are able to care for more than 2,000 homeless pets each year by providing temporary lodging; testing, vaccinations, and treatments; spay/neuter procedures; and extraordinary medical care for those animals that need it. Their dedication to ensuring the safety and wellness of the most vulnerable in our community has helped to bring our live release rate to 98%. In all, our adoption events with Subaru have helped over 1,000 animals find homes through the years, and this year alone, our Subaru Loves Pets adoption event found fur-ever homes for over 100 cats, dogs and rabbits. Their "Fill the Forrester" initiative also ran for the month of October and encouraged donations of pet supplies from the community. With their help, we were able to collect towels and linens, along with pet food, treats, toys, and other supplies that enrich the lives of pets while they await their fur-ever homes. The month-long celebration wrapped with a wonderful opportunity for us to offer mini pet-portrait sessions in an outdoor setting and safely engage with the community during COVID. This day-long event was a welcome departure for those looking for a fun and safe activity on Halloween. The day featured costumes and treat bags, along with volunteers from Quirk Subaru who spent the day making free personalized pet tags for adopters and other visitors to the shelter. We are grateful to have such steadfast support from a pillar in our business community. Not only have they gone above and beyond to save the lives of animals, but they have improved the lives of the thousands of people in our region who have been lucky enough to add a furry friend to their families. We look forward to many more years of partnership.
---
Seven Years of Saving Lives with Quirk Subaru - Stacey C
The life-saving work that happens at the Bangor Humane Society hinges on the support we get from our community. Every year it takes our entire community of staff, volunteers, foster parents, offsite partners, veterinary partners, donors, business sponsors, foundations, and adopters to help us reach a 97% live release. That is why we are so incredibly grateful for the ongoing support from local businesses like Quirk Subaru. Our partnership with Quirk Subaru began 7 years ago. Since then they have supported our mission in a variety of ways: direct monetary support through their annual Paws on Parade sponsorship; collecting much needed items like food, bedding, and enrichment supplies for our shelter guests through their Fill the Forester event; and helping us raise awareness for and promote pet adoption through our annual Subaru Loves Pets Adoption events. Over the last seven years, their support has equaled over $21,000 through direct sponsorship support, collected hundreds of needed shelter items for pets in need and helped us adopt nearly 1,000 animals into new loving homes through our adoption partner events. Their partnership has been vital to helping the nearly 3,000 homeless pets that arrive at our doors each year. It has directly provided: temporary refuge (with good food and plenty of love and attention) for every animal in our care; reunions of hundreds of lost pets with their owners annually; the spay or neuter of all adopted pets before they go home and sustains spay/neuter assistance to low-income individuals to help control pet overpopulation and significantly decrease our shelter intake; compassionate, high-quality veterinary care to each ill and injured animal that comes to us; our foster care program to give our most vulnerable animals the best chance to thrive; and lastly, our adoption programs that create thousands of new families every year through pet adoption to achieve an incredible live release rate of 97%! We are grateful for all of the support we have received over the years from Quirk Subaru and look forward to saving more lives together as community partners.
---
Quirk Subaru donates $1,000 Automotive Scholarship - John
One lucky automotive program student will receive a $1,000 scholarship from Quirk Subaru as part of the EMCC automotive program's new Subaru U program. Instructor, Automotive Technology at EMCC, Jonathan Kill , said, "It's a life blood to be able to go into a Subaru dealership. So that's directly once they are in the program and in the internship as long as they are doing their part as a student they are pretty much guaranteed a job." There were three news stories that aired last night about the donations. To watch the videos and read the stories click the following links: NewsCenterMaine , WABI , FOX22. Thank you to the Quirk Boys: Jack, Tom, Jim, David & Bob for your gracious support. John Kill, EMCC
---
Mobile Food Truck - Tom K
In Maine we try to get creative with solving our our food insecurity issues in our region. Good Shepherd Food Bank is a wonderful partner of ours, and they are always looking for new and innovative ways to get food to those that need it most. In the past few years, they have started a mobile food pantry to help get food to isolated rural areas in Maine. Our Subaru was a huge help in getting to Lincoln, Maine where food security is a big problem. We met the Mobile Food Truck there and used this event to network with folks in our community that could use our help. Our Subaru also came in handy when it was time to pack up and head back to our office. The large hatch area helped us to bring some food back for our own clients. Subaru to the rescue!
---
Dale the Subaru Visits Senior Expo - Tom K
Dale the Subaru Outback visited Eastern Area Agency on Aging's 12 Annual Senior Expo with 875 people attending. The Subaru Outback came in handy to help to shuttle the expo-goers around the grounds and help them explore all that the expo had to offer. Many people explained how happy they were that we offered this service to them, and appreciated that we thought of them. Senior Expo is an annual event that helps our Agency to get information out to older adults and caregivers about services in the area. With the walkways lined with vendors, older adults, caregivers, and their friends and family walked and met with different local organizations that could help their family. Overall it was a fantastic day, and one that we were thankful that our Subaru Outback could be a part of!
---
MOW WOW!!! - Laurie Q
Proving that age is just a number, Eastern Area Agency on Aging volunteer Eleanor Jones, age 92, continues to give back to her community by delivering meals and smiles to homebound seniors! Eleanor has been volunteering with Meals on Wheels for over 30 years! She and EAAA's area manager for Hancock County, Vicki Haskell, took "Dale," our Meals on Wheels America Subaru of America, Inc. on her latest delivery run. Please join us in celebrating this amazing lady! #ageisjustanumber #volunteerpower #subarulovestohelp #mealsonwheels
---
MOW, Subaru and The Great Turkey Caper - Rob C
Subaru of America and Meals on Wheels make special Thanksgiving meals possible for 90 low-income seniors in far eastern Maine. Using the fabulous Subaru Outback donated by Subaru of America, Eastern Area Agency on Aging's Meals on Wheels drivers delivered more than 90 turkey baskets to home-bound seniors in Washington County, in what has warmly become know as the "The Great Turkey Caper." The baskets were part of a collaboration with local farmers and community members who either grew the vegetables or helped prepare the meals. Meals on Wheels and community volunteers spent part of their day with the isolated seniors celebrating Thanksgiving. "Dale," as the Subaru Outback has been affectionately named, featured prominently in the activity. Dale was named in honor of former Meals on Wheels volunteer Dale Pottle whose widow Muriel Pottle, daughter Gale Look, granddaughter Robyn Bryant, and great-granddaughters Haleigh and Aspyn continue the family tradition of giving back by delivering meals to home-bound seniors. EAAA will be posting Dale's adventures on their Facebook page as he helps Meals on Wheels volunteers serve meals over EAAA's 13,000 square mile service area in Washington, Hancock, Piscataquis, and Penobscot counties. Dale has delivered more than 3,000 meals this winter!
---
Most Successful Pet Adoption Week In History BHS - Stacy
Leveraging the "Share The Love" platform, Quirk Subaru of Bangor and the Bangor Humane Society delivered one of the most successful weeks of pet adoptions in the history of Bangor Humane Society leading to over 100 pet adoptions during the week of the event which was held October 21st, 2017. Quirk Subaru sponsored all pet adoption fees the day of the event which included spade, neutering, medical expenses and administrative fees to increase the potential supply of pet adopters. Quirk Subaru drove extensive media coverage leveraging radio partnerships through public service announcements plus a radio live remote at the franchise as well as extensive social media execution again, leveraging the "Share The Love" platform provided by Subaru of America. There were over 300 people waiting in line to adopt a pet when the Bangor Humane Society opened for the actual one-day event. There were two human/pet interest stories of note that really touched on the "Share The Love" platform that should be noted. Oscar, a cat with Feline immunodeficiency virus (similar to AIDS virus), was a cat with very limited options for adoptions. He needed a home where the adopter had immediate access to veterinary care and no other pets in the home. He had been in the shelter for quite some time due to unqualified adopter candidates. The awareness of the event led to a local veterinary employee adopting the cat and providing a home that met the requirements of his illness. Later in the morning a family of 6 came in and adopted a beautiful mix dog, one of the only 2 dogs remaining in the shelter. Noticing that the father/husband was crying when we took the family picture with the dog, we were very touched. The following week, while meeting with the Executive Director of the Bangor Humane Society, she informed us that the family was adopting the pet because the husband was beginning treatment for stage 4 cancer and the family wanted a dog to help him through the trauma and as a means to help the family cope with what could be the loss of their father and husband. This adoption truly lives by the "Share The Love" mantra and we are very proud to be a small part of this specific adoption. The success of this event could not have happened without the "Share The Love" support from Subaru of America, the efforts of the Quirk Auto Group staff, and the great execution of the plan by Bangor Humane Society leadership and staff. We look forward to growing this relationship and effort in 2018.
---