The 2021 Subaru Love Promise Community Commitment Award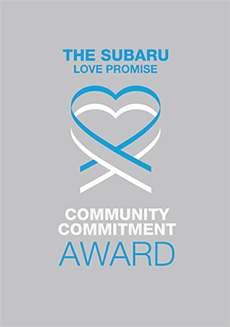 We've been nationally recognized for our dedication to our community and the Subaru Love Promise.
We're honored to receive the 2021 Subaru Love Promise Community Commitment Award. This award nationally recognizes Subaru retailers who are making the world a better place while demonstrating an outstanding commitment to supporting passions and causes in local communities. These efforts are focused in important areas such as the environment, community, health, education, and pets.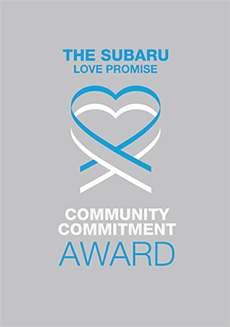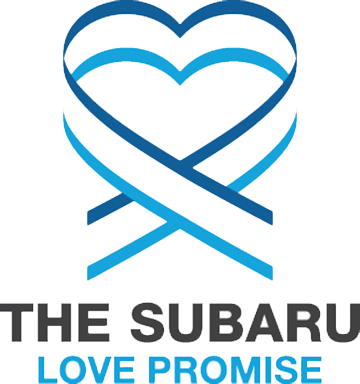 What is the Subaru Love Promise?
Subaru and our retailers believe in making the world a better place and the Subaru Love Promise is our vision of respecting all people. This is our commitment to show love and respect to our customers and to work to make a positive impact in the world.
How is Quirk Subaru of Bangor dedicated locally to the Love Promise?
Our Love Promise can be seen in various partnerships with local charities and non-profits. We're grateful for the opportunity, not only to be a part of our community, but to serve it as well.
Maine Discovery Museum, University of Maine
Love Promise Stories from Quirk Subaru of Bangor
Subaru and Quirk Subaru of Bangor believe in making a positive impact on the communities in which we live and work. We uphold that belief through our Love Promise Community Commitment. Every month, we select inspiring stories from customers and partners from around our area who strive to support our collective commitment and feature them here
Quirk Subaru Employees Donate To Food Security - Clifton Community F
A special thank you to the employees at Quirk Subaru for their donation to support food security in the communities of Clifton, Eddington, Holden and Bradley communities. From the volunteers of the Clifton Community Food Bank, we greatly appreciate your support earlier in 2021 and we hope to have your support in the months to come.
---
Quirk Subaru Auto Tech Training Scholarship - Erica H
November 9, 2021 Dear Colleagues, Quirk Subaru has long been a strong and active supporter of Eastern Maine Community College (EMCC) in Bangor, Maine. EMCC is deeply appreciative of their steadfast partnership. Quirk Subaru and Quirk Auto Group consistently engage in campus events, fundraising campaigns, and co-branding within our community. A perfect example of how they really support students was during the initial stages of the pandemic, they allowed our students to use their Wi-Fi in their parking lots. A simple gesture, but huge impact!Not only do they support the college as a whole, Quirk Auto Group provides support in a variety of ways to our Automotive Technology Program and students: Consistently providing annual funds for scholarships to help students Provides internship opportunities Regularly hires program graduates Provides teaching demos for students from professional technicians and other automotive professionals in their employ We look forward to an ongoing partnership with Quirk Auto Group; they are a vital part of our community. Special thank you for our 2 donations to support student scholarships one for automotive technical training and a second for police officer candidate training! Best,Erica A. Hutchinson Dean of Advancement, Eastern Maine Community College
---
James Doughty School Leverages Donations - Edward H
Quirk Subaru and Subaru's "Share the Love" provided valuable resources in the Special Education Department to support the Social-Emotional needs of students and to assist teachers in developing positive classroom communities. The grade 6 team's materials will help build a classroom community by utilizing games within specific subject matters. In addition, these materials provide an opportunity for hands-on learning, and students build upon their communication, cooperation, and other social skills. For grade 7, the donation helped purchase materials that will help teachers engage all students in daily lessons (like individual whiteboards and clipboards). I also ordered materials (like markers and colored pencils) that will allow all students to complete various assignments, regardless of their ability to provide these supplies independently.The information above was provided by the teachers associated with those classrooms that utilized these donated materials. On behalf of the school, the teachers and students, the community, we thank you for this generous donation. Sincerely, Edward M. Hackett Principal, James F. Doughty School (207) 941-6220
---
We can count on Subaru - Kathryn R
There is not an individual or organization in the world right now that has not faced significant challenges over the last 18 months. The animal welfare sector has reckoned with increased populations, decreased foot traffic, and staffing shortages-creating the perfect storm for longer stays for pets and what could have been lower adoption rates. Thankfully, our partnership with Quirk Subaru has remained steadfast and has allowed us to successfully navigate to a new normal. Our live release rate is now at 99%, meaning that our commitment to never euthanize for time or space is paying off and 99 out of 100 pets are released to rightful owners or adopted. That's news to celebrate. And during Subaru Loves Pets month, we were able to find homes for over 140 animals! India, a beautiful, 2-year-old mute tabby arrived on a transport from Georgia in March 2021. We were surprised to learn she was pregnant and she gave birth to a litter of 5 beautiful kittens. We also learned that India had Feline Immunodeficiency Virus, or FIV. This is a manageable feline disease, but it does require a veterinary relationship, and other cats in the prospective home must also already have FIV, or the infected cat must be the only cat in the home. This can make quick placement a bit of a challenge, and while each of India's kittens, who were not FIV positive, were able to find homes relatively quickly, India waited patiently for her match. After almost 7 months here at our shelter, it finally happened. India went home! Betty, a 10-1/2 year old Boston Terrier was surrendered by her owner due to health issues the owner could not afford to correct. She had a corneal ulcer that needed treatment and a mass on her mammaries was removed to reveal cancer. She is now cancer-free and we expect her to live several more years, with her new owners keeping a close eye on any new growths. Betty also found her perfect match during Subaru Loves Pets month! The final week of October we held an adoption event that offered discounted adoption rates for animals that were ready to take home. At the same time, Quirk Subaru held a supplies drive for the shelter at their dealership. To cap off the week, we offered a day of fun and treats for the community, urging them to come out and get photos taken of their pets, donate supplies, and adopt a furry friend. Quirk Subaru also brought over a vehicle that we filled with donations. Our shelves were restocked thanks to their efforts, and more than 20 pets found homes during the week. We are grateful for all Subaru does to support pets-now more than ever!
---
Meals On Wheels - Dyan W
Early in 2020, working with Subaru New England, Quirk Subaru helped support a Large Food Donation Drive to support Good Shephard Food Bank with a statewide drive effort to keep food shortages & assistance. This effort lead to several Quirk Subaru employees suggesting LOCAL food assistance programs near and dear to our hearts here in Bangor. Each year Quirk employees donate a portion of their Christmas bonus to charitable organizations THEY select, and Quirk Auto Group matches these donations. Quirk Subaru has proudly supported Eastern Maine Agency On Aging's Meals On Wheels program for several years. In 2017, Quirk Subaru and Subaru of America generously donated a brand new Subaru Outback to support the delivery of meals to senior citizens in need throughout Eastern Maine. Quirk Subaru continues this relationship by donating food assistance to Eastern Maine Agency On Aging's Meals On Wheels program in 2020, a year in which COVID has created a food assistance need like none other. #quirkcares
---
Automotive Technology Scholarship - EMCC - Terri A
Quirk Subaru and its employees have a long history of dedication to supporting automotive technical education at Eastern Maine Community College. In addition to contributing to EMCC's Subaru U Training Program, Quirk Subaru and it's employees have again donated a 2020 scholarship to support the tuition for a student in need who aspires to become an automotive technician through EMCC's Automotive Technology program. For many years, this scholarship has provided opportunities to diverse groups of people: women, displaced adults looking for new career opportunities, or young adults just starting. Quirk Subaru is proud to have provided jobs and advancement opportunities for both current and past EMCC Automotive Technology graduates with jobs that allow them to make a decent wage and contribute to the local Bangor economy. We look forward to seeing our 2020 scholarship benefactor flourish in the field of automotive technology. #quirkcares
---
FUN-raising, Filled Foresters, & Fur-Ever Homes - Kathryn R
The Bangor Humane Society has now partnered with Quirk Subaru for 8 wonderful years. Thanks to their longtime support, we have successfully facilitated the improvement of thousands of animal lives in our region. As a direct result of their generous assistance, we are able to care for more than 2,000 homeless pets each year by providing temporary lodging; testing, vaccinations, and treatments; spay/neuter procedures; and extraordinary medical care for those animals that need it. Their dedication to ensuring the safety and wellness of the most vulnerable in our community has helped to bring our live release rate to 98%. In all, our adoption events with Subaru have helped over 1,000 animals find homes through the years, and this year alone, our Subaru Loves Pets adoption event found fur-ever homes for over 100 cats, dogs and rabbits. Their "Fill the Forrester" initiative also ran for the month of October and encouraged donations of pet supplies from the community. With their help, we were able to collect towels and linens, along with pet food, treats, toys, and other supplies that enrich the lives of pets while they await their fur-ever homes. The month-long celebration wrapped with a wonderful opportunity for us to offer mini pet-portrait sessions in an outdoor setting and safely engage with the community during COVID. This day-long event was a welcome departure for those looking for a fun and safe activity on Halloween. The day featured costumes and treat bags, along with volunteers from Quirk Subaru who spent the day making free personalized pet tags for adopters and other visitors to the shelter. We are grateful to have such steadfast support from a pillar in our business community. Not only have they gone above and beyond to save the lives of animals, but they have improved the lives of the thousands of people in our region who have been lucky enough to add a furry friend to their families. We look forward to many more years of partnership.
---
Seven Years of Saving Lives with Quirk Subaru - Stacey C
The life-saving work that happens at the Bangor Humane Society hinges on the support we get from our community. Every year it takes our entire community of staff, volunteers, foster parents, offsite partners, veterinary partners, donors, business sponsors, foundations, and adopters to help us reach a 97% live release. That is why we are so incredibly grateful for the ongoing support from local businesses like Quirk Subaru. Our partnership with Quirk Subaru began 7 years ago. Since then they have supported our mission in a variety of ways: direct monetary support through their annual Paws on Parade sponsorship; collecting much needed items like food, bedding, and enrichment supplies for our shelter guests through their Fill the Forester event; and helping us raise awareness for and promote pet adoption through our annual Subaru Loves Pets Adoption events. Over the last seven years, their support has equaled over $21,000 through direct sponsorship support, collected hundreds of needed shelter items for pets in need and helped us adopt nearly 1,000 animals into new loving homes through our adoption partner events. Their partnership has been vital to helping the nearly 3,000 homeless pets that arrive at our doors each year. It has directly provided: temporary refuge (with good food and plenty of love and attention) for every animal in our care; reunions of hundreds of lost pets with their owners annually; the spay or neuter of all adopted pets before they go home and sustains spay/neuter assistance to low-income individuals to help control pet overpopulation and significantly decrease our shelter intake; compassionate, high-quality veterinary care to each ill and injured animal that comes to us; our foster care program to give our most vulnerable animals the best chance to thrive; and lastly, our adoption programs that create thousands of new families every year through pet adoption to achieve an incredible live release rate of 97%! We are grateful for all of the support we have received over the years from Quirk Subaru and look forward to saving more lives together as community partners.
---
Quirk Subaru donates $1,000 Automotive Scholarship - John
One lucky automotive program student will receive a $1,000 scholarship from Quirk Subaru as part of the EMCC automotive program's new Subaru U program. Instructor, Automotive Technology at EMCC, Jonathan Kill , said, "It's a life blood to be able to go into a Subaru dealership. So that's directly once they are in the program and in the internship as long as they are doing their part as a student they are pretty much guaranteed a job." There were three news stories that aired last night about the donations. To watch the videos and read the stories click the following links: NewsCenterMaine , WABI , FOX22. Thank you to the Quirk Boys: Jack, Tom, Jim, David & Bob for your gracious support. John Kill, EMCC
---
Mobile Food Truck - Tom K
In Maine we try to get creative with solving our our food insecurity issues in our region. Good Shepherd Food Bank is a wonderful partner of ours, and they are always looking for new and innovative ways to get food to those that need it most. In the past few years, they have started a mobile food pantry to help get food to isolated rural areas in Maine. Our Subaru was a huge help in getting to Lincoln, Maine where food security is a big problem. We met the Mobile Food Truck there and used this event to network with folks in our community that could use our help. Our Subaru also came in handy when it was time to pack up and head back to our office. The large hatch area helped us to bring some food back for our own clients. Subaru to the rescue!
---